Everyone can be active says motivator Paul- (Article written on 9/9/14) http://www.cbtravelchoices.co.uk/
For many getting active can be daunting but, with the help of motivational coach Paul Coombes, people in Dunstable are discovering the benefits of a healthy lifestyle in a way that suits them. Paul, who is part of the NHS's Let's Get Moving programme, works with patients from Kingsbury Court Surgery to help them find ways to make being active part of their day-to-day lives.
At an appointment, Paul works with clients to gauge their current level of fitness,interests and confidence. He then helps them find a suitable activity and set goals to help make being active integral to their daily life.
Paul's comprehensive knowledge of local fitness provision and understanding of physiology and nutrition as a fitness, nutrition and weight management specialist means he can help clients find an activity that suits them, whether it be joining a guided walk or playing a sport.
"Being active not only improves an individual's physical condition but also has a positive impact on mental wellbeing.' says Paul 'The good news is there is an activity to suit everyone, whatever your age.
If you used to play football but can't run like you used to, why not try walking football? If you don't like organised sport and going to the gym fills you with dread, gardening, nature conservation and dancing are also ways to be more active."
The clients Paul has been seeing at the Travel Choices Hub have seen great success over the time they've been working with him. With his exercise and weight loss advice, many clients have seen a healthy weight loss of 7 to 14lbs during the 12 week programme and taken up activities such as walking and swimming. The results have been encouraging with family members commenting on increased vitality and visible weight loss.
The Let's Get Moving Programme hopes soon to be working with other surgeries around Dunstable but for now Paul works on Thursdays from the Travel Choices Hub, using the private consulting room and benefitting from all the information available on walking and cycling.

ukactive's Let's Get Moving Programme is a health and well-being service for a variety of settings including GP surgeries, local authorities and within the corporate setting.
With the proven technique of motivational interviewing and behaviour change at the heart of this programme, a trained professional, we call a Community Exercise Professional supports people you in achieving a more active lifestyle. We take people on a journey and explore individual-specific ways of becoming more active and give support in doing this.
For more information visit ukactive.com and letsgetmoving.org.uk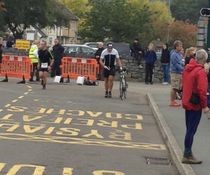 20/9/14 Paul Completes  Brutal Iron DistanceTriathlon  in 16 hours 20 mins and 51 seconds. Finishing 12th overall and 1st in the male super vets category.
Breca Swim Run 2019
2018 Events
Bedford Triathlon
Coniston 5.2 mile end to end swim

OMM
Black Mountains