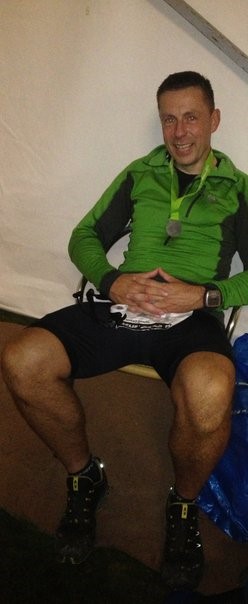 Hi, I am Paul Coombes I am a keen sportsman and outdoor enthusiast who after a thirty year career in the Police Force has decided to help people in a different way.
I have loved sports and fitness since I was young and have taken part in most types of sport both team and individual.
I have completed a large number of marathons and triathlons over the years and am currently training for a long distance run event across the Lake District in 2020.
In recent years I have concentrated on Ironman Distance Triathlons and also working with the 'Let's Get Moving' programme, motivating people to become more active and lead healthier lifestyles which I found most rewarding. I have also qualified as a level 2 Triathlon Coach as well as combining my outdoor interests in long distance open water swims and mountain marathons. Basically enjoying being in the great outdoors!
As a Personal Trainer and Mountain Leader I am determined to help people achieve their goals in fitness and in wellbeing. Making the journey along the way both exciting and rewarding.
Whether it's losing weight for a special occasion, being fitter to do the garden, swimming in a mountain lake or running in a marathon I will be able to  guide you to your goal by creating a unique, stimulating and exciting training and lifestyle coaching experience for you.
I love helping people reach their goals and am sure if you contact me I will be able to help.
WHY PERSONAL TRAINING?
PERSONAL TRAINING IS THE PROVISION OF EXERCISE , NUTRITION AND MOTIVATIONAL SUPPORT TO HELP PEOPLE CHANGE AND ACHIEVE THEIR GOALS IN FITNESS.
Lack of time, boredom, lost motivation are some of the major reasons people give for not achieving what they set out to achieve when they first joined a gym or decided to get fit.
Personal training is not just for the rich and famous. In countries like Australia and America the use of a personal trainer is seen as a normal way to help people achieve your fitness goals. I want to bring this way of thinking to the UK by providing time efficient training alongside interesting and fun ways to get fit.
I believe that fitness isn't just about the body but is about body, mind and spirit!
"Some people want it to happen, some wish it would happen, others make it happen." – Michael Jordan
"Take care of your body. It is the only place you have to live." – Jim Rohn
"Life isn't about waiting for the storm to pass…It's about learning to dance in the rain." – Vivian Greene
"Today is going to be a good day, because I am going to make it a good day." – Ben Hunt-Davis
Modern existence is made easy by technology . We have to do less to live. That doesn't mean we don't work hard but we often work in front of computers, drive to and from work and also tend to work long hours that means when we do have free time we are often too tired to be active and often rely on pre-packaged snacks, fast food and ready meals. If we are overweight this can lead to greater risk of heart disease, high blood pressure, type 2 diabetes, strokes and some cancers.
As waistlines expand at astonishing speed there is an increasing demand for even quicker ways to lose weight. This has led to many fad diets, potions and pills that promise to drop the pounds fast but rarely work in the long term. My job includes educating my clients about healthy eating principles and about the benefits of embarking on a program that addresses both nutrition and exercise. This will allow not only short term behaviour modification but will enable permanent lasting change.
Key questions I can help you answer as we work together to find your healthy diet:
Do you have a Healthy Diet ?
Everyone has different nutritional needs and there is no one diet that fits everyone. However it is important that we have a healthy and balanced diet that provides the nutrition that our body needs. Our body is a wonderful bit of kit but it must be fuelled correctly to work at it's optimum.
Is it okay to drink alcohol when trying to lose weight?
Do you know how many calories you need each day and what percentage of your diet should be carbohydrate, fat or protein?
What constitutes a healthy snack?
Do you know why breakfast is such an important meal?